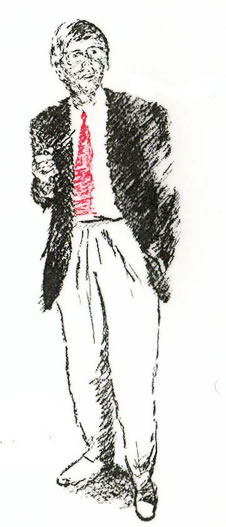 Werner Zganiacz was born in 1938. He studied Civil Engineering, and for fifteen years, was active as an Executive and Member of the Board. He overlooked large -scale urban development and construction projects worldwide.

In 1977, he reached a turning point and left his profession to follow his dream. He has since become a well known contemporary and critical artist.

Known mostly for his exquisite and entertaining drawings on the themes of golf, eggs, pug dogs, and most animals, his works have been shown in numerous exhibitions in Europe and New York, and he has published four art books.

In 1998, the artist discovered his enthusiasm for cartoons. The five-star Hotel, "Louis C. Jacob", a member of "The Leading Hotels In The World", asked Zganiacz to draw a series of ironic and good-spirited gallery of the ancestors of Louis C. Jacob, founder of the hotel. These hilarious portraits are collected in his latest art book, "Ancestral Halls From the House of Jacob".

Werner is well known on television and in the press in Hamburg, Germany, where he has resided since 1971.

He has a strong following for his drawings and prints, and is currently immersed in drawing cheerful portraits of famous personalities of the Renaissance era. As always, there is an amusing twist to whatever he does.