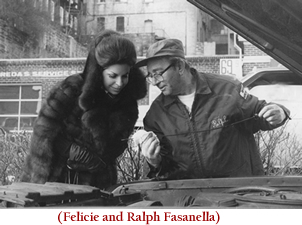 Ralph Fasanella is considered a major Americian artist of our time. Electrically alive, vibrantly colorful, his works portray a perception of New York City that is at once joyous and tragic.

Fasanella was born into an Italian immigrant family in New York City, in the Bronx, on Labor Day, 1914. His father was an iceman and his mother, a garment worker.

When Fasanella and Felicie first met in 1974, he looked as if he had just stepped out of a gas station .. and "fill 'er up" he did until the earlly 1970's when he was suddenly recognized as an important artist, earning a reputation as the greatest American primitive painter since Grandma Moses. His widespread success started in 1972 when Automation House, a union center, staged an exhibition of works by Fasanella, a long-time labor organizer. New York Magazine did a cover story on him and the boom was on. His pictures, majestic in scope and tiny in detail, were a sensation.

His primitive paintings show the working lives and political myths of Americans: ... stickball games on Sunday afternoons, the mosaic of rich and poor, the church spires, tenements, skyscrapers, and crowded workshops ... the constant motion of millions of people in a small space. And then there are the scenes and memories from his own life: ... his Greenwich Village boyhood, his working-class Italian background, his intense involvement with family, with the labor movement and with the American left of the thirties and forties. He always considered his famous Stadium Baseball paintings to be "the ballet of life".

In 1974, with an exclusive contract with Felicie, Fasanella began doing a series of limited edition original silkcreens for her, eight, in all, and the only ones he ever produced. The first of these, "Family Supper", immediately became a collector's item, and his other editions quickly followed suit.

Today, Fasanella's paintings hang in many museums and there are constant retrospectives of his work.